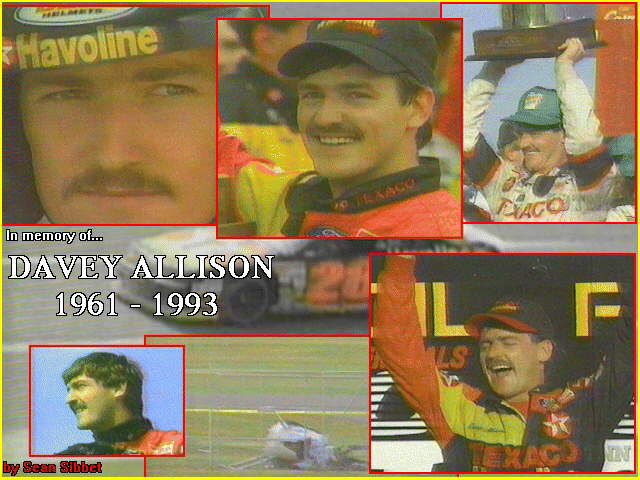 This Page Dedicated To The Memory Of
Davey Allison
July 13, 2006........It was 13 years ago today that the horrible news came that Davey Allison had passed away from injuries substained in a helicoptor accident the day previous at the Talladega Superspeedway infield. I can still remember the day like it was yesterday. It was 8am, and I was driving my work truck down a lonely stretch of 2 lane highway in central IL. The radio announcer spoke the words that Davey had died, and I'm not too proud to say that I pulled my truck to the side of road and began to cry. Davey was much more than just another Nascar driver to me. He was indeed my hero. Davey was who I wanted to be, and I lived my dream of driving a Winston Cup car every Sunday through Davey's eyes. I always felt that I had the talent to drive a race car. But being a family man, never had the time nor the resources to make it happen. So when Davey climbed into the car each Sunday, he didn't know it, but he had a passenger riding along. I became a Nascar fan in the early 80's, watching the likes of Darrell Waltrip, Richard Petty, Bobby Allison, Cale Yarborough, and the other stars of that era race each Sunday afternoon. When Davey came along, something special happened. The kid had such enthousiasm, a smile from ear to ear, and a ton of talent. I'll never forget watching the horror of his dad Bobby's crash at Talladega in the Winston 500 of 1987. But the horror turned to jubilation and screams of joy as Davey rolled into victory lane for the first time that day. Ah, there's nothing quite like seeing a young driver win his first race, and this is a memory that will be with me forever. Today, people ask me who I root for. I tell them "whoever's in 2nd place". Part of the reason for that is I fear suffering the same feelings as when Davey passed away. Maybe if I distance myself from them, it won't hurt so bad when they're gone. Even though Davey didn't die in a racecar, it's part of the realization of stock car racing. It's a fact of life that automobile racing is an inherantly dangerous sport, something that many of us take for granted nowdays. Spectacular crashes may be exciting, but I always pray for the safety of each driver every Sunday, and I ask you to do the same.

The following is a 1998 article from Winston Cup Scene, in which Liz Allsion, Davey's widow, talks about her life since Davey's death and Davey's last hours. This is pretty powerful stuff, and I encourage you to please read on.....
---
Liz Allison: Putting The Pieces Back Together
By Ben White
NASCAR Winston Cup Scene
One can look into her dark brown eyes and immediately see the ever-consuming storm clouds of fear and uncertainty have been replaced with calm and peace. In 1998, she is back; stronger, more mature, ready to face life with nothing but optimism. Nearly five years have passed since the tragic death of Davey Allison, her husband of four years, in a helicopter accident. In the time it would take to drop a letter into a mailbox, her world, and the worlds of her children Krista, now 8, and Robbie, 6, changed forever. Time is God's greatest healer, and now, Liz feels she's ready to proceed with her life and return to what really matters; the love of friends, the joy they bring and the blessings that present themselves each day. For several years, the pain was too great for her to return to the race track. The burden she would face would be too much to bear.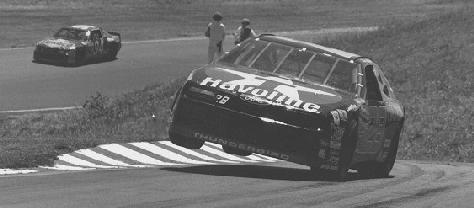 "I felt like eventually it would be my responsibility to make racing a part of Robbie and Krista's life. I felt like I had to do that for Davey," she said while sitting on a sofa in her den. "He loved it so much. Davey grew up in racing and as far as you can go back an Allison has been involved in racing. I thought it would be a shame for Davey's children to never know anything about racing. I just didn't know when the time was going to be right to do that. When we went to Daytona (in February), we loved it. It was such a thrill. It was great for everyone to see the kids and for the kids to see all these people. Krista said to me, 'Momma, why does everybody know my name?' And Robbie would look up at me and say, 'Momma, why does everybody touch me? Everybody keeps touching me!' Even though he was not quite 2 years old when his father died, Robbie still fit right in, just as if he d been in the garage area his entire life. "When Robbie got in a couple of the race cars down there, it was a real thrill for him and a real thrill for me," she recalled. "It surprised me. All they'd ever seen was what was on TV or in the newspapers, but they had never experienced it before then. They were too young. Now I have little racing freaks on my hands." Another person who appreciated them being at the Daytona 500 was their grandfather, Bobby Allison, a three-time winner of the race. "It was neat to see her and Krista and Robbie there," Bobby said. "It was great to see the kids and see them excited about being at the races. Liz seemed to have a good time and we talked later about a couple of the events that went on. I thought all of that was kind of special." Diane Bodine, wife of NASCAR Winston Cup driver and team co-owner Brett Bodine, has been close to Liz for many years. Several attempts were made to get her back to the track, but the timing simply wasn't right. "Liz wasn't ready to come back before now," Bodine says. "A couple of times we tried to get her to come back to a race and kind of feel things out. She would come to Atlanta and we'd go shopping, but she would never get to the race track. Until now, she just absolutely could not face all of that. Now she can go in the garage area and all of that fear is absolutely gone." Two years after Davey s death, you can t imagine how bad she looked. She was drawn and pale. Now to see her like this is great! For Liz, the past five years have definitely been a growing experience. It s been a day-to-day and month-to-month experience, but she is finally regaining her confidence as a person and as a parent. "I'm now 32, the same age as Davey when he died," she says. "Ever since he died, I've thought many times if I could sit down with him and have a conversation with him, what would he tell me? He would be grinning all over himself because of me breaking down and taking the kids to the track. He would say, 'I told you you loved that racing.' I could just hear him." For a long time, Liz says, she felt she had to depend on those conversations with him in her mind in order to keep going. "It got to the point where it was driving me crazy. I can see how far I've come. I'm a grown woman. I know Davey is looking over us. But I also trust myself and the fact I'm making the right decisions. That's a real healthy place for me to be where I can actually and truly depend on me and know we're doing good." The day-to-day struggle for someone who has lost a spouse acts as ripples in a pond, affecting the center and everything around it, especially where the children are concerned. It's the little things that affect the children that people don't consider, such as when their friends make Father's Day cards, and they realize their father is gone. It's a different set of anxieties and problems on a different level from an adult. One major key to emotional recovery for the Allisons has been grief therapy, a form of counseling relating to death. Liz says that having access to such counseling has been a Godsend. "I still take them (the children) whenever I feel the need. They were so young when Davey died and at each age there are a different set of things that come up with his death. When they were real little, it was that he just wasn't there to hold them. When they get older and get to school, everyone else has a Daddy but they don't. At each age level, there's different questions so any time they need it I feel I can take them back to this wonderful grief therapist that really helped us through it."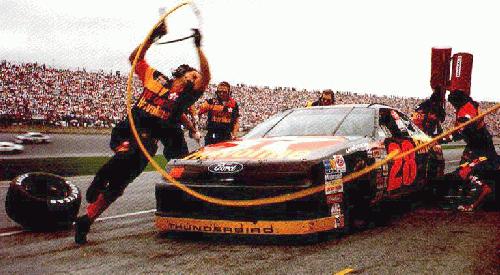 In order to understand the tremendous pain of her past and the positive direction she is attempting to travel, one must return to the dark tunnel that has consumed her and her family for the past 60 months. Liz does so graciously, in an effort to identify with the beast and the trauma it produces so she can harness it and move on. Her saga with Davey began on Aug. 29, 1988 at the Tiny Lund Memorial race at Summerville (S.C.) Speedway. Several NASCAR Winston Cup Series drivers were there to help raise money for charity. Liz was there with friend Robert Powell, a short-track driver, and his fiancee. She went with her friends quite hesitantly, as racing was something a bit foreign to her. She was sitting on the back of a truck in the scorching South Carolina heat when Davey suddenly jumped up on the back of the vehicle and asked her name. He also asked her to hold his hat until he finished driving in the charity race. Almost immediately after the event, the drivers had to return to Darlington, S.C., where the Southern 500 was being held that Labor Day weekend. Before leaving, however, Davey asked for her phone number. She gave him a work number, uneasy about giving him her home number. He called the next day, thus beginning a close telephone friendship that continued until the two attended the season finale together at Atlanta. The two were married on Aug. 30, 1989. Between the time they met and up until the start of the 1992 season, Davey accumulated 11 of his 19 career wins and 10 pole positions. The 1992 season began with Davey winning the Daytona 500, but it seemed to be one of only a few bright spots that year. It was an emotional year that fueled difficulties between the couple. "I didn't worry about Davey until his 1992 year. I have to say 1992 was a year nobody should have to go through. He really got messed up that year. It was never fun after that."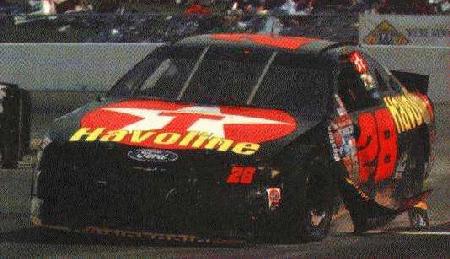 Davey endured four major accidents that season and the loss of his brother, Clifford. The first accident came at Bristol, Tenn., on April 5 when he slammed into the wall after an oil fitting broke, spilling oil underneath his car's wheels. He suffered muscle and cartilage damage to his ribs and shoulder. His second crash came later that month at Martinsville, Va., when he cut a tire and smacked the outside retaining wall. In that crash, he received bruised ribs. His third crash occurred at the finish of the May 17 The Winston all-star event at Charlotte Motor Speedway. As he crossed the line to win the race, he and Kyle Petty collided, sending Allison's Ford careening into the frontstretch wall. "He did have a life-after-death experience but he didn't tell hardly anyone for fear they would think he was crazy," Liz says. "He told me he was sitting in the stands and hovering over the car watching the rescue people getting him out. He said he heard the kids saying, 'Daddy! Daddy! Daddy!' getting louder and louder. Finally, he came back." The year's next severe crash came at Pocono Raceway on July 19 when he flipped his Robert Yates Racing Ford numerous times down the short chute, between Turns 2 and 3. He was flown to Allentown, Pa., where he underwent surgery for broken bones in his right forearm, collarbone and wrist. "We really clashed in that deal. I told him I couldn't support him. He said, 'You're my wife and if you love me, you have to support me.' I said, 'I love you and I don't want you to kill yourself.' That year was the turning point for me. No more enjoyment for me." Upon being released from the hospital, Davey flew straight to Talladega so he could fit his hand on the shifter knob with Velcro. The pain from his broken ribs left him in tears as he climbed in and out of the race car. "He was trying to hold on to the points lead and I began to think, 'This is ridiculous.' He was completely broken up inside. They're holding his sides and he's hollering out in pain trying to get in and out of the car. I'm standing over on the side on pit road in major tears thinking, 'You are sick! I don't get this. I love racing but I don't get this.'" Bobby Hillin drove for Davey in the event and gave the team a third-place finish, allowing them to keep the point lead.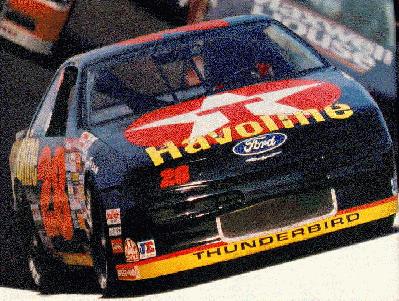 At the beginning of the 1993 season, Davey told Liz he couldn't get out of the car. She told him she didn't want him to give up something he loved, but she didn't like the way things were going at the time. "I finally had to realize I had to support him. It was all or nothing because racing was his life." Rumors their marriage was in trouble persisted, but ironically, the catalyst of such troubles was the deep love she felt for him and how his physical suffering had taken its toll. "That was a difficult time for us, and 1992 was a difficult year. He said, 'You love me for better or worse and this is what I do and this happens to be one of the worst. Are you in here with me?' I said, 'Yes, I'm here. I don't like it. But I'm here.'" For the people who knew Davey, 1992 changed him. He was more committed to his family and appreciated them more than ever. He was convinced the physical trauma he suffered acted as a wake-up call to get his spiritual priorities in order. Then came July 12, 1993, the Monday after the inaugural race at New Hampshire International Speedway. Ironically, the day started with Liz asking her husband for a special favor that included his Hughes 360HS helicopter, an item of his that she hated. She asked him to fly her to Anniston, a little more than an hour's drive from their Hueytown home, for a meeting she had on NASCAR Fan Fest. The children had been sick all weekend and she was exhausted from taking care of them. He refused, saying he wasn't taking the helicopter up that day, that he planned to work at the NASCAR Busch Series shop, check on the guys, and have breakfast.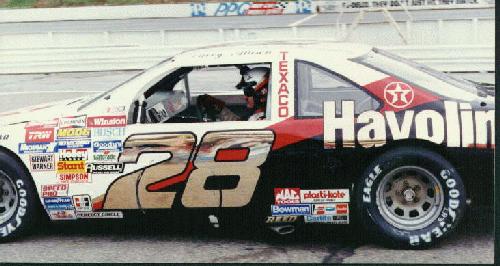 Davey always met friends at the Farmhouse restaurant for breakfast every Monday morning after a race. "He said, 'I'm going to take Robbie to breakfast with me this morning,' which was a little odd. I told him to drop him off at Mother's Day Out and I would come by and get him later. I had another friend keeping Krista." "He was sitting on the edge of the bed putting on his socks. I sat down beside him. That's when he said, 'You know what I was thinking about this weekend? Of all the things I've been through the past couple of years, do you know who's been there for me? You!' I said, 'OK. That was it.' That was something he normally wouldn't have said I wouldn't have thought. It was a complete surprise to me. Then he went about his day." Ironically, during her return home from Anniston, Liz looked up and saw a LifeFlight helicopter speeding toward Talladega Superspeedway. She remembers thinking that she hoped the patient or patients they were going to help would be OK. She had no idea the helicopter was en route for her husband and veteran competitor Red Farmer. Once arriving home, Liz looked at her watch and realized she didn't have much time to get the country-style venison prepared that Davey had requested for dinner. She hadn't been home 15 minutes when the doorbell rang. It was Greg Campbell and Wayne Hill from Davey's NASCAR Busch Series team. The two men told Liz they needed her to go with them immediately. She asked about Robbie and Krista and was told they were fine. Finally, they told her Neil Bonnett had called and said Davey and Farmer were flying to the track to see David Bonnett test and the helicopter had crashed. They went by the shop to pick up Davey's parents, Bobby and Judy Allison. It wasn't until Bobby turned off at the Birmingham exit that he told Liz that Davey was being airlifted into that hospital. "Judy said to me right when we walked in, 'Don t worry. God took Clifford but he's not going to take Davey.' We got in there and the night from hell began." It was a long night of helplessness and frustration. All the Allison family could do was wait and pray for a miracle. Davey's condition was grave and everyone within the immediate circle knew the chances of survival were slim. Through the strange events that unfolded during the night, Liz knew her role on earth was about to change. "If you don't believe in God, you should experience some of what I experienced that night," she says. "God has been special all through my life but especially during that time of my critical need of the power of the Holy Spirit. It wasn't long before I realized Davey wasn't going to live. It was just something that was put in my heart, as if to say, 'All right, you're going to have all night but get yourself together because he's not going to make it.'" It wasn t until doctors came into the small waiting room off the Neurological Intensive Care Unit to obtain permission to remove a large blood clot from Davey s brain that Liz learned he had severe head injuries.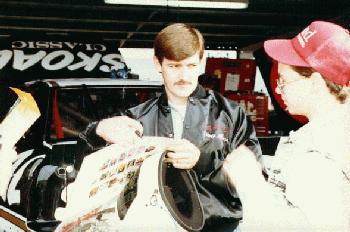 "The first time I went in to see him was right when he had come out from having the clot removed," she recalls. "I was pleading with him and everyone in there in my hysterical crying to please not let him die. I kept shaking his hand saying, 'You cannot die! You are going to get up out of that bed. You cannot die!' A nurse came over to me and said, 'Honey, it's really none of my business but I believe they (head injury patients) can hear you. They just can't respond to you. If he has to die, do you want him to die like that?' I said, 'But you don't understand. I'm 28 years old. We've been married only four years. I have two very small children.'" Liz could only stay with her husband for short periods of time. At one point, she went back to the waiting room only to find a tremendous peace come over her. It was as if strength was replacing uncertainty and fear. "I knew I was getting ready to be the man and the woman of the family. I knew I had to get a hold of myself. Then all of a sudden, I started taking care of everybody else. I had prayed, 'Lord, if you're going to take him you better prepare me for this. He's the strong one. I'm the weak one. I don't know what to do. You've got to take me though this step by step.'" Throughout the 16-hour ordeal, Liz saw only one brief moment of hope. It came about 3 a.m. on July 13. "I was standing at the foot of the bed holding his toes. I just started crying and said, 'I've got to know that you hear me. You have got to do something to let me know you hear me.' I stood there and rubbed his toes and said to him, 'Will you move your fingers? Can you move your hand?' His wedding ring finger and pinkie finger moved. I then said, 'Can you move your toes?' He moved three of his toes. I said, 'Oh my God!'" She ran from the room to find the doctors. When a doctor on the shift walked into the room, Liz asked her husband to repeat his hand and foot movements, and he did. The doctor looked at her and said, "That's a blessing from God." At that point, Davey had no brain activity. By 5 a.m., Davey's weak vital signs had plummeted. At 7 a.m., he was declared clinically dead by Dr. Evan Zieger, the chief neurologist handling the case. "Davey needed to show me that sign he could hear me through moving his toes and I needed to tell him it was OK for him to die. I didn't get to go back in there after that but I wish I would have."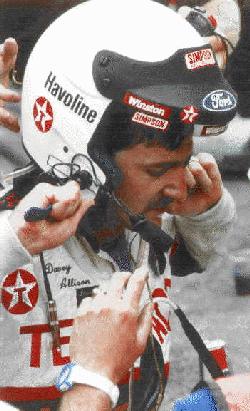 Upon being informed of Davey's death, Bobby Allison escorted his daughter-in-law into a small office where organ donation papers were signed. As the ink swirled her signature, uncontrollable tears flowed. "Davey and I had never discussed organ donation. But I knew what kind of person he was and he would have said to me that his time was over and that I should help someone else whose time had not yet come. I cried all the way through signing the papers." Since Davey's death, Liz has worked with various charitable organizations, including the Organ Donor Foundation, the National Head Injury Foundation, Make-A-Wish Foundation, The Children's Hospital of Alabama, The United Way, and the Alabama, Tennessee and North Carolina Head Injury Foundation. In 1993 and '94, she received the Community Service Award from the Alabama Chapter of United Way. Also in '94, she was presented with the Presidential Award from the Alabama Head Injury Foundation. The months following Davey's death were extremely hard emotionally, as she felt alone, desperate, confused and most importantly, worried about her and her children's futures. "I was a basket case. At the time, I thought I was doing OK. Now that I'm relatively back to my sane mind, I was so lost. I was running as fast as I could to try to take the pain away. I look at it now and think of how I was 28 years old, had a little boy who was two weeks short of his second birthday, a 3 1/2-year-old little girl and was a kid myself. I didn't even have a checking account in my name. I didn't know who to turn to. I didn't know what we had." "Not only that, racing wasn't just a job, it was a lifestyle. So all of a sudden, everything that had been familiar to me for four years was gone. I was lost. None of my family was in Hueytown. I was a mess. By the grace of God and good friends, you just keep sputtering through. I was no different than anybody who has lost a spouse." Now, however, as the fifth anniversary of her husband's death approaches, the pieces are starting to go back together.
---
In closing, I just want to say thank you, for taking time out of your busy day to read this, and think about Davey. I hope those of you who loved Davey as I did were touched in some small way. God, I miss him still.....may he rest in peace, and his memory live forever.